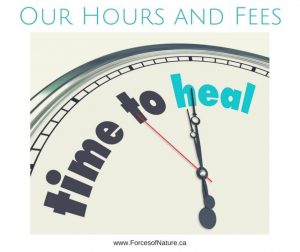 Hours by Practitioner
Practitioner
Days/Hours
Dr. Pamela Frank, Naturopathic Doctor
Tues - 11-7, Fri - 11-7, Sat - 10-6, Alt Sun - 10-6
Dr. Rachel Vong, Naturopathic Doctor
Mon - 11-7, Wed - 11-7
Mark Lee, RMT
Tues 3-7, Wed 11-3,
Fri 11-5, Sat 10-3
Dr. Brandon Davy, DC, Chiropractor
Wed 11-7, alternate Sat 9-2
Dr. Darlene Buan-Basit, DC, Chiropractor
Mon - 2-7, Fri- 12-6, Alternate Sat - 1-6
Joy Walraven R.Ac, R. TCMP, CST, Acupuncturist, TCM, Craniosacral therapist
Sundays - 10-6
Ichih Wang, Psychotherapist-in-training
Tues - 9-7, Thurs - 9-7
Peggy Jamali, Osteopath
Mon & Wed - 2-7
Sanaz Baradaran, Registered Dietitian
Sun - 10-6, Mon - 4-7, by appointment only
Click here to book your appointment.
Hours by Service
Naturopathic Doctor Hours
Mon 11-7, Tues 11-7, Wed 11-7, Fri 11-7, Sat 10-6, Sun 10-6
Chiropractor Hours
Mon 2-7, Wed 11-7, Fri 6:30 a.m. to 11 a.m. and 12-6, Sat 9-2 or 1-6
Registered Massage Therapy
Tues 3-7, Wed 11-3, Fri 11-5, Sat 10-3
TCM, Acupuncture and Craniosacral Therapy
Sunday 10-6
Registered Dietitian
Sunday 10-6, Monday 4-7
Osteopath
Monday and Wednesday 2-7
Fees
Not sure? Book a free 15-minute consultation
We offer a free 15-minute consultation with our practitioners either in person or on the phone if you are not sure if our treatment is right for you.  No treatment or advice can be given during this session.
Click here to book your appointment. Please do not book an appointment unless you fully intend to keep it.
Naturopathic Doctor Fees
New Fees as of March 15, 2018
| ND Visit | Visit Length | Adult | Child/Student/Senior |
| --- | --- | --- | --- |
| Initial | 75 minutes | $240.00 | $195.00 |
| Second | 45 minutes | $140.00 | $115.00 |
| Follow up | 30 minutes | $85.00 | $70.00 |
| Follow up | 15 minutes | $50.00 | $40.00 |
Students and Seniors are treated to a 20% discount on naturopathic doctor fees
Visits are HST exempt as of Feb 12, 2014
Lab Fees
NOTE:  In order to perform any lab testing, you must be an existing patient.  We cannot order lab testing for individuals who are not patients of one of our naturopathic doctors.
Conventional Lab Blood Work  – such as testing for your thyroid, iron, hormone levels, vitamin D, blood sugar, liver function tests etc are available through our office, however, the costs are not covered by OHIP.  If such tests would be helpful, we will recommend them and you may pursue having them done through your medical doctor, or you may pay to have them performed by us.  We charge only what the lab charges us for these tests, plus a $10 service fee.  Lab tests vary by test, we can provide an estimated cost prior to any testing.
Functional and Preventive Medicine Testing – Our naturopathic doctors can order a variety of functional medicine testing such as food sensitivity testing listed below, as well as Comprehensive Digestive Stool Analysis, SIBO testing, DUTCH urine hormone testing, saliva hormone testing as well as many other specialized tests.
Food Allergy Blood Testing
Elisa testing for IgG, IgE and IgA antibodies to foods is offered through Life Labs/Rocky Mountain Analytical by Dr. Pamela Frank, BSc, ND and Dr. Rachel Vong, ND.  This test is extremely helpful to those suffering from seasonal allergies, asthma, eczema, sinusitis, rhinitis, headaches, migraines, bloating, gas, constipation, diarrhea, abdominal pain, joint pain, tiredness, fatigue, low energy, sinus congestion, skin rashes, acne and autoimmune disorders like Hashimoto's, Lupus, Sjogren's and Rheumatoid Arthritis.  This test may be covered by your private insurance, approximately half of our patients do have this test covered by insurance.
More information about food allergy/food sensitivity testing:
http://rmalab.com/medical-laboratory-tests/allergy/igg-sensitivity
http://rmalab.com/sites/default/files/tests/spec_sheets/Pt_Handout_Food_Aug2013.pdf
http://www.naturalmedicinejournal.com/article_content.asp?article=105
Registered Massage Therapy Fees
New Fees as of March 15, 2018:
| Registered Massage Therapy | Adult | Student/Senior |
| --- | --- | --- |
| 30 minutes | $60 | $54 |
| 45 minutes | $75 | $67.50 |
| 60 minutes | $95 | $85.50 |
| 90 minutes | $130 | $117 |
Prices include HST
Students and Seniors are treated to a 10% discount on massage therapy services
Chiropractor Fees
New Fees as of March 15, 2018:
| Chiropractor Visit | Time | Adult | Student/Senior (65+) |
| --- | --- | --- | --- |
| Initial | 45 minutes | $150 | $135 |
| Follow up | 15 minutes | $50 | $45 |
| Follow up | 30 minutes | $90 | $80 |
| Follow-up | 45 minutes | $150 | $135 |
| Follow-up | 60 minutes | $195 | $175 |
| Acupuncture | 30 minutes | $90 | $80 |
Chiropractic treatment is exempt from HST
Acupuncture, TCM and Craniosacral Therapy with Joy Walraven R.Ac, R. TCMP, CST
Registered Acupuncturist and Practitioner of Traditional Chinese Medicine, Craniosacral therapist
Fees effective Jan. 1, 2018:
| Acupuncture/TCM & Craniosacral Therapy with Joy Walraven | Time | Cost |
| --- | --- | --- |
| Initial Visit | 90 minutes | $160 |
| Follow-up | 60 minutes | $120 |
| Follow-up | 45 minutes | $100 |
| Craniosacral Therapy Only | 60 minutes | $120 |
Registered Dietitian Fees(Sun 10-3, Mon 4-7) *call to book
Initial Nutrition Assessment 60 min $99.00 + HST
In-person Follow up 40 min $65.00 + HST
Phone Follow up 30 min $45.00 + HST
Grocery Store Tour & Groc.List 60 min $119.00 + HST
Nutrition Package $369.00 + HST (Initial visit, 4 in-person and 2 phone follow ups)
Osteopath Fees
HST exempt
Initial Visit 60 min $120.00
Follow up 30 min $80.00
New Osteopath Fees as of January 1, 2020
1st Visit: Adult: $150.00 Students and Seniors: $127.50
30 minutes: Adult: $80.00 Students and Seniors: $68.00
45 minutes: Adult: $95.00 Students and Seniors: $80.75
60 minutes:  Adult: $140.00 Students and Seniors: $119.00