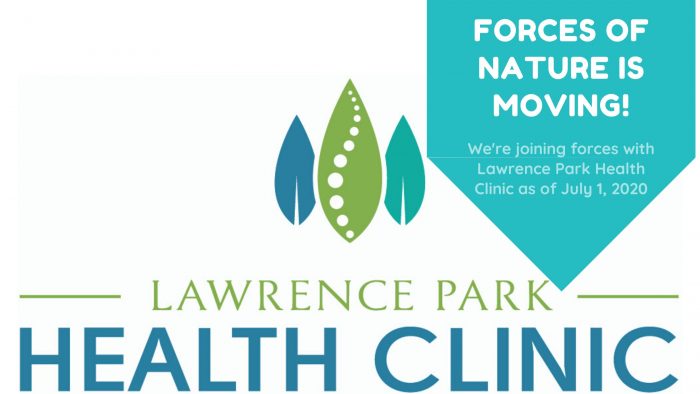 Why Choose Our Wellness Clinic?
You are ready to be the best version of yourself
We'll help you overcome illness, or relieve your pain and enjoy the best quality of life possible at any age
We care about you and your health
Award-winning Clinic and Doctors:
"Best Naturopath in Toronto" NOW 2000 & 2001
"Best Naturopathy in Toronto" City Centre Mirror 2013 & 2014
"Best Naturopathic Medicine " Consumer's Choice Award 2016
"Best Toronto Health & Wellness Centre" GHP News 2019
"2019 Toronto Star Reader's Choice Award Winner for: Best Acupuncturist, Best Psychotherapist, Best Naturopath, Best Osteopath, Best Nutritional Services"
At Forces of Nature Wellness Clinic We Give You:
We use science-based natural treatment

that works
Our naturopathic doctors, registered massage therapists (RMT's), chiropractor, acupuncturists, craniosacral therapist, Traditional Chinese Medicine practitioner, osteopathic manual practitioner, Registered Dietitian, and psychotherapist will treat you with only the best tried and true, evidence-based natural treatments.
Holistic Treatment
With a wide range of services, our therapists can support and nurture all aspects of your health and well-being. You can conveniently tailor your care to suit you. See one, a few or all of our wellness experts, the choice is yours.
Punctuality
We value you and you value your time, we make every effort to remain on schedule. Occasionally our patients' cases are complex. These patients need unanticipated extra time. We feel obligated to treat them with the extra empathy and care that they deserve. We would do the same for you. As best as we are in control of our schedule, we promise prompt care. We appreciate your patience and understanding in the event that (on rare occasions) we may run slightly behind schedule.
Satisfaction
If you are ever dissatisfied with your care at Forces of Nature for any reason, please bring it to our attention directly. We will do whatever we can to ensure your complete satisfaction.
Honesty and integrity
You will never be prescribed visits or supplements that you don't need. You will never be pressured to purchase anything from us. We like to be treated honestly and ethically and we expect that you do too.
Up-to-date information
Health information changes every day, our practitioners update their skills regularly to provide you with exceptional care and innovative health solutions.
Acceptance
We treat people of all ages, races and gender identities equally. Everyone who comes through our door receives the same level of care as we would wish for ourselves and our families. We practice family wellness care. We are parents ourselves and we understand that your children are precious and promise to treat them that way.
Social Responsibility and Community Involvement
At Forces of Nature, we believe in giving back to our wonderful Yonge-Eglinton community and making a difference. Whenever asked, we make donations to our local churches, schools and charitable organizations. As well, a portion of our proceeds goes to support the North Toronto Green Community.
But Can We Help You?
In my 20+ years as a naturopathic doctor, I've never met a person or a condition that couldn't be helped through natural treatments such as we offer. If you're not sure what you need, talk to Maria, she's our COO (Chief Office Organizer) and BG (Booking Guru). Call 416-481-0222 or email her at Maria@ForcesofNature.ca.
Or book yourself a complimentary 15-minute consultation with any of our practitioners to see if we can help.
What our clients say they like most about Forces of Nature Wellness Clinic:
"being able to get an appointment quickly, not having to sit in a waiting room for a long time, accessibility via email, range of services, informative newsletter, professionalism, and integrity. Most importantly, though, is the time taken to listen, understand and explain. I've always trusted the advice I've received and been truly helped by it." – L. S.
"Prompt friendly services" – T.R.
"I trust the advice that I receive. Nice, friendly, helpful staff." – D. K.
"Friendly and knowledgeable staff, convenient location, hours for working professionals, and able to buy supplements right in the clinic (saves me time in going to another store)." – F.S.
"I like the environment — warm, friendly, caring, relaxed, and non-clinical. It doesn't feel like Canadian health care." – A.R.
Knowledgeable ~

Caring ~

Natural Treatment
Our Wellness Clinic Treatments
At Forces of Nature Wellness Clinic, every member of our team does their utmost to help every guest at our wellness center feel comfortable, respected, valued and supported while receiving exemplary care. Visit us for comprehensive natural treatment, health education, support, motivation, and inspiration. We combine the best natural medicine treatments in our warm and relaxed clinic setting. No matter what your medical condition or diseases are, we can help.
Our Doctors & Therapists
All of our wellness experts have years of experience and practice with the highest standards of competence, professionalism, kindness, and respect for their clients.