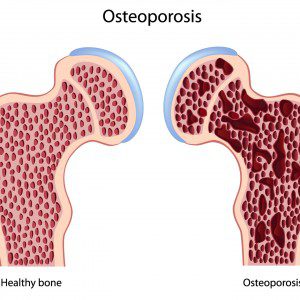 Low Bone Density: Osteopenia and Osteoporosis
What is Osteopenia?
Osteopenia is a condition where your bone mineral density is lower than normal, but not yet severe enough to be classified as osteoporosis.
What is Osteoporosis?
Osteoporosis is also a condition of low bone mineral density but more severe than osteopenia. Your risk of broken bones or fracture is increased. Primary osteoporosis occurs most often in post-menopausal women. Secondary osteoporosis occurs in anyone of any age as a result of chronic medical problems or secondary to prolonged use of medications, such as prednisone or antacids (proton pump inhibitors/PPI's) .
What causes osteoporosis/osteopenia?
Bone density can be decreased by a number of factors including:
Lack of Physical Activity/Exercise
High stress
Poor diet
Smoking
Excessive Alcohol Intake
Vitamin D and/or vitamin K deficiency
Soft drink intake
Exposure to heavy metals like lead and cadmium
What is the natural treatment for Osteopenia/Osteoporosis?
Our naturopathic doctors emphasize:
lifestyle changes like regular physical activity and stress reduction techniques
hormone balance through proper diet, and vitamins and herbs if necessary
healthy diet – increasing foods that are beneficial to bone health and reducing foods that are detrimental
changing unhealthy habits like smoking, alcohol abuse and soft drink intake
testing for vitamin D or vitamin K deficiency and healthy supplementation if necessary  (Note: patients on blood thinner medications are not advised to increase vitamin K intake)
testing for heavy metal exposure and heavy metal detoxification if indicated
By Dr. Pamela Frank, Naturopathic Doctor, updated Jan. 6, 2020
---
Research on natural treatment for osteopenia & osteoarthritis
Diet:
A nutrient-rich diet full of calcium, phosphorus, iron, vitamins C and E, B vitamins, proteins, and unsaturated fats was associated with a 19% decrease in risk of wrist fractures and a 14% decrease risk of fractures at any site. Source: Complementary Prescriptions Journal, Vol.27, Issue 3, Feb 2013.
Corticosteroid use and high intake of animal proteins and fats are negatively associated with bone loss while adhering to a vegan diet did not have adverse effects on bone loss and fracture. Source: Eur J Clin Nutr, 2011 Aug 3.
Curcumin:
Riva A, Togni S, Giacomelli L, Franceschi F, Eggenhoffner R, Feragalli B, Belcaro G, Cacchio M, Shu H, Dugall M. Effects of a curcumin-based supplementation in asymptomatic subjects with low bone density: a preliminary 24-week supplement study. Eur Rev Med Pharmacol Sci. 2017;
21(7):1684-1689.
● Bone density of the heel significantly improved in the curcumin supplementation group compared with baseline values; bone densities of small finger and jaw also improved significantly. No significant changes in bone density were observed in the control group.
Tea Drinkers:
Wu CH, Yang YC, Yao WJ, Lu FH, Wu JS, Chang CJ. Epidemiological evidence of increased bone mineral density in habitual tea drinkers. Arch Intern Med. 2002; 162(9):1001-6.
● Epidemiologic study finds habitual tea drinkers had greater lumbar spine bone mineral density compared with non-habitual green tea drinkers. Those with more than 10 years of green tea habitual consumption showed the highest bone mineral densities of all measured regions of the body.
Vitamin K2:
Vitamin K2 was found to boost bone health by increasing bone mineral density in osteoporosis patients and by decreasing incidences of fractures. Source: Complementary Prescriptions Journal, Vol.27, Issue 3, Feb 2013.
New research suggests that vitamin K supplementation plus calcium and vitamin D can be beneficial to bone health. Source: J Korean Med Sci. 2011 Aug;26(8):1093-8.
Low-dose vitamin K2 supplementation in postmenopausal women was found to improve bone quality over 6-12 months.  Source: J Bone Miner Metab, 2013 May 24.
Minerals:
In addition to calcium, magnesium, vitamin A and vitamin K all play a part in maintaining bone strength and flexibility. Source: Complementary Prescriptions Journal, Vol.27, Issue 3, Feb 2013.
Vitamin A:
Vitamin A was found to boost bone health by positively affecting osteoblast and osteoclast activity for proper bone remodeling.  Source: Complementary Prescriptions Journal, Vol.27, Issue 3, Feb 2013.
Magnesium:
Magnesium must be present in the body in order for vitamin D and calcium to perform their jobs, therefore a deficiency can lead to osteoporosis. Source: Complementary Prescriptions Journal, Vol.27, Issue 3, Feb 2013.
Omega-3s:
Long-term aerobic exercise training plus omega-3 supplementation have a positive effect in reducing inflammation and augmenting BMD in post-menopausal osteoporosis.  Source: Nutrition and Metabolism, Volume 8, page 71, 2011
Omega-3 fatty acid supplementation in addition to long-term aerobic exercise have a synergistic effect at reducing inflammation and augmenting bone mineral density in post-menopausal osteoporosis. Source: Nutr Metab (Lond). 2011; 8: 71.
Folic Acid:
Mice supplemented with folic acid for 6 weeks saw an improvement in blood flow to the bone and bone density. Source: J Orthop Res. 2011 Apr 5.
Calcium:
Adequate calcium and vitamin D throughout life may reduce the risk of osteoporosis. Source: Nutrition Research and Practice, Volume 5, Issue 1, pages 3-10, February 2011.
Supplementation with 800 mg/d of calcium and 400 IU/d vitamin D3 was found to benefit bone health in female identical twins aged 9-13. Source: Osteoporos Int, 2010 June 11.
Supplementation with calcium combined with vitamin D was found to help prevent bone disease in children with renal diseases treated with steroids. Source: Nephrol Dial Transplant, 2013 May 2.
Lycopene:
Supplementation with lycopene-rich tomato juice or tomato Lyc-O-Mato lycopene capsules was found to significantly reduce oxidative stress and improve bone health in post-menopausal women. Source: Osteoporos Int, 2010 June 15.
Vitamin C:
Supplementation with 1000 mg/d vitamin C and 400 IU/d vitamin E may be useful in preventing or aiding in the treatment of aid-related osteoporosis.  Source: J Nutr Health Aging, 2010; 14(6): 467-72.
Vitamin D:
Combined supplementation of calcium and vitamin D3 was effective in reducing the rate of bone mineral density loss in women with moderate chronic kidney disease.  Source: Clin Nephrol, 2012 May; 77(5):358-65.
Vitamin D levels of 30 ng/ml may be required for bisphosphonate treatment in postmenopausal osteoporosis. Source: Bone. 2012 Apr 1.
Low vitamin D levels were found to be associated with an increased risk of stress fractures of the tibia or fibula. Source: J Bone Miner Res, 2011 June 22.
Qigong:
Qigong, a Chinese therapy close to Tai Chi involving movement and coordinated breathing patterns, was found to have a positive effect on bone density. Source: Complementary Prescriptions Journal, Vol.27, Issue 3, Feb 2013.
Potassium citrate:
Daily supplementation with potassium citrate, calcium and vitamin D for 2 years led to a significant increase in areal bone mineral density and volumetric bone mineral density in elderly adults.  Source: J Clin Endocrinol Metab. 2013 Jan;98(1):207-17.
Tocotrienol:
Treatment with delta-tocotrienol with lovastatin was found to significant;y increase bone formation and reduce bone resorption in female rats. Source: Evidence-Based Complementary and Alternative Medicine, 2012.
Copper:
Copper supplementation may reduce oxidative stress and improve cross-linking of collagen in bone.  Source: J Trace Elem Med Biol, 2010; 24(3): 165-8.
Green Tea:
A recent study found that green tea and tai chi reduce oxidative stress in post-menopausal women with osteopenia. Source: Complementary Prescriptions Journal, Vol.27, Issue 3, Feb 2013.
Green tea polyphenols and a regimen of Tai Chi were found to increase bone formation biomarkers, improve bone turnover rate, and improve muscle strength in osteopenic women. Source: Osteoporos Int, 2011 July 16.