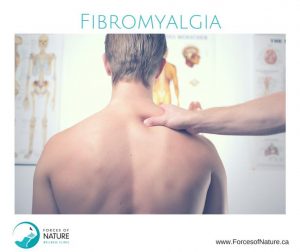 Natural Treatment for Fibromyalgia
Fibromyalgia Definition
What is Fibromyalgia? The word literally means pain in the muscles and soft tissues. It is diagnosed by pressing on 18 specific points in the muscles throughout your body. The number of points that are painful is counted. If 11 or more of them hurt, then your muscle pain may be diagnosed as fibromyalgia.
Fibromyalgia Causes
What Causes Fibromyalgia?
The exact cause of fibromyalgia is as yet unknown. However, there are certain common elements to people who develop fibromyalgia:
Physical trauma. Car accidents, falls, and crushing injuries such as being caught in an elevator door have all triggered fibromyalgia symptoms in the patients that I have treated.
Infection. Infectious agents like viruses and bacteria create chronic inflammation. Inflammation is what causes pain. Helping your immune system to be strong and fend off infectious organisms can help.
Stress. Your stress glands, or adrenal glands, produce powerful anti-inflammatory agents known as corticosteroids. Keeping healthy, well-functioning adrenal glands helps to keep pain and inflammation in check.
Fibromyalgia Symptoms
The symptoms of fibromyalgia may include:
Widespread, chronic muscle pain
The pain is worse with pressure, even relatively light pressure
Difficulty sleeping or insomnia, due to the pain
Fatigue, due to the lack of sleep
Memory, focus, concentration issues, due to the lack of sleep
Mood issues such as depression, due to chronic pain and lack of sleep
Our licensed naturopathic doctors, acupuncturists, chiropractor and registered massage therapists have extensive experience in relieving all kinds of pain-related disorders, including fibromyalgia pain. We use scientifically-valid natural treatments like those in the research below.
Our door is always open and we are always ready and willing to help with any health concern.  Book an appointment now or call 416-481-0222.
Authored by Dr. Pamela Frank, ND, updated Jan. 1, 2020
---
Natural Treatment of Fibromyalgia: Research
Creatine Monohydrate:
Alves CR, Santiago BM, Lima FR, Otaduy MC, Calich AL, Tritto AC, de Sa Pinto AL, Roschel H, Leite CC, Benatti FB, Bonfa E, Gualano B. Creatine supplementation in fibromyalgia: a randomized, double-blind, placebo-controlled trial. Arthritis Care Res (Hoboken). 2013; 65(9): 1449-59.
● 16 week trial – The creatine monohydrate group was associated with higher muscle phosphorylcreatine content, greater muscle strength in leg and chest press exercises, greater isometric strength
Acetyl L-carnitine:
Leombruni P, Miniotti M, Colonna F, Sica C, Castelli L, Bruzzone M, Parisi S, Fusaro E, Sarzi-Puttini P, Atzeni F, Torta RG. A randomized controlled trial comparing duloxetine and acetyl L-carnitine in fibromyalgic patients: preliminary data. Clin Exp Rheumatol. 2015; 33(1 Suppl 88):S82-5.
● Both duloxetine and acetyl-L carnitine (one group vs. the other) led to general clinical (pain) improvement and positive effects on pain and depressive symptoms, QOL
Acupuncture:
Martin DP, Sletten CD, Williams BA, Berger IH. Improvement in fibromyalgia symptoms with acupuncture: results of a randomized controlled trial. Mayo Clin Proc. 2006; 81(6):749-57.
● Fibromyalgia symptoms were significantly improved in the acupuncture group compared with control group during the study period, where the largest difference between groups was observed at 1 month. Fatigue and anxiety were the most significantly improved symptoms during the follow-up period.
Acupuncture, Massage Therapy and Yoga:
Nahin RL, Boineau R, Khalsa PS, Stussman BJ, Weber WJ. Evidence-based evaluation of complementary health approaches for pain management in the United States. Mayo Clin Proceedings. 2016;91(9): 1292-1306.
● A review found the following complementary approaches had more positive results in helping patients maintain the following chronic painful conditions:
o Acupuncture and yoga for back pain
o Acupuncture and tai chi for osteoarthritis of the knee
o Massage therapy for neck pain
o Relaxation techniques for severe headaches and migraines
o Weaker evidence for relaxation and tai chi for fibromyalgia
Malic Acid:
Russell IJ, Michalek JE, Flechas JD, Abraham GE. Treatment of fibromyalgia syndrome with Super Malic: a randomized, double-blind, placebo-controlled, crossover pilot study. J Rheumatol. 1995;22(5):953-8.
● Super Malic is a tablet containing malic acid (an alpha lipoic acid) and magnesium – significant reductions in measures of pain and tenderness were observed at an increased dose (6 tablets bid) for at least 2 months in duration
Vitamin D:
Wepner F, Scheuer R, Schuetz-Wieser B, Machacek P, Pieler-Bruha E, Cross HS, Hahne J, Friedrich M. Effects of vitamin D on patients with fibromyalgia syndrome: a randomized placebo-controlled trial. Pain. 2014; 155(2):261-8.
● Marked reduction in pain (VAS score) over the treatment period (20 weeks) in the treatment group (serum calcifediol levels between 32 and 48 ng/mL via oral supplementation with cholecalciferol); correlation with scores on the physical functioning scale of the Short Form Health Survey 36.