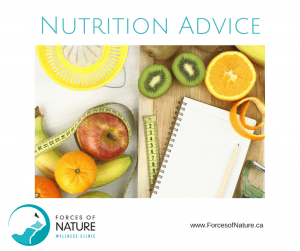 Diet and Nutrition
Who Should I see for Nutrition Advice?
Our recommendation would be to consult with either our Registered Dietitian, Sanaz Baradaran, or one of our Naturopathic Doctors, Dr. Rachel Vong or Dr. Pamela Frank.
What's the difference between a "nutritionist" and a "dietitian"?
A dietitian is a nutritionist. She provides scientific nutrition advice that is easy for you to understand and implement. Dietitians have a degree from an accredited university program and they are members of a regulated health profession, just like our naturopathic doctors, massage therapists, and chiropractor. A dietician will have the credentials RD after their name. This signifies that they are qualified to provide nutrition advice. They are held accountable to provincial regulatory bodies for the highest standards of education and ethics.
What kind of qualifications does a Registered Dietitian have?
Dietitians are university-educated, health professionals. Their training includes hundreds of hours of supervised, hands-on training in food systems, disease management, population health, communication, and counseling. In order to practice, they must pass a registration exam to become a regulated health professional. Ongoing professional development in the form of continuing education is also required to maintain their registration. Just like our other regulated practitioners.
Is a Registered Dietitian covered by my employee benefits?
Whether you have coverage to see a dietitian depends on your individual plan, some do cover their services and some don't. To find out if you have coverage for diet advice, check with your HR department or call your insurer and ask the following questions:
Do I have coverage to see a registered dietitian?
If you have a health spending account, you can use this for your dietician services?
Do I need a doctor's referral?
How much coverage do I have in a calendar year and do I have this amount for each family member?
What does an RD do and how can seeing a Dietitian help me?
An RD can help you:
Eat and enjoy as many foods as possible, even if you have food allergies or restrictions
Reduce your risk of developing a diet-related chronic disease such as diabetes
Manage chronic diseases like diabetes through diet so you can live a longer healthier life
Fuel your workouts
Ensure adequate nourishment for a picky eater
Navigate the grocery store in the healthiest way
Cultivate a healthy relationship with food
Sort out if a diet you read about is right for you
---
Dietician References and Resources: