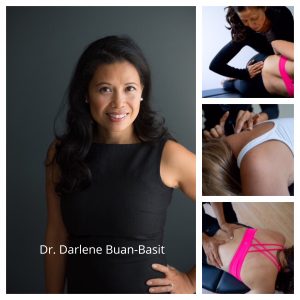 Yonge-Eglinton Chiropractor Dr. Darlene Buan-Basit
Dr. Darlene Buan-Basit is a licensed chiropractor and Pilates instructor in Toronto with over 15 years of experience.
Dr. Darlene has worked with a wide range of people: injured athletes, NHL players, high-risk pregnancies, children and active seniors. Since having a baby, she has become a leader in manual therapy for pediatrics, tongue ties, and breastfeeding ergonomics. She is passionate about helping families navigate through tongue tie issues, and is currently on the Board for the International Consortium of Ankylofrenula Professionals.
Dr. Darlene uses physical modalities such as laser, ultrasound, and IFC to help injuries or pain. In addition to adjustments/mobilizations, she also uses a range of myofascial techniques such as ART, massage, nerve flossing, McKenzie and Mulligan techniques, and craniosacral therapy. Dr. Darlene is a Contemporary Medical Acupuncture Provider and is trained in Traditional Chinese Medicine.
She has recently returned after a year in Hawaii where she organized a Pilates In Paradise Retreat and developed training programs in Therapeutic Pilates and Breastfeeding Solutions. Hawaii was a magical year of learning and healing! Dr. Darlene is refreshed and energized, ready to treat patients, teach classes and help people become stronger, healthier, balanced and aligned!
Dr. Darlene is a former Lululemon Ambassador for Yonge/Briar Hill. She has taught classes at Balance Fitness, The Yorkville Club, The Yoga Studio, Pilates for Life and Women's Fitness, and corporate programs for the Hospital for Sick Kids. Dr. Darlene began her fitness career as an aerobics instructor teaching STEP, kickboxing, and spinning classes before falling in love with pilates and yoga.
Certified through both Body Harmonics Pilates and Stott Pilates, Dr. Darlene teaches mat work and equipment to private clients and in classes. Dr. Darlene is also a certified yoga instructor, suspension yoga instructor, and a Garuda Method mat and apparatus instructor. She combines these methods and rehabilitation principles into Therapeutic Pilates to help people with clinical conditions or injuries.
Her other passions include skiing, cycling, snorkeling, and learning to play the harp!
July 1, 2020:
As of July 1, 2020, the Forces of Nature Wellness Clinic location is permanently closed. To book an appointment with Dr. Darlene, please contact her directly at chiropracticpilates@rogers.com