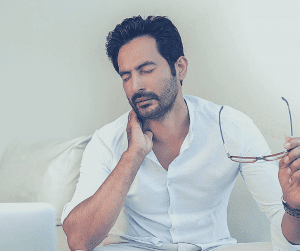 What is whiplash?
Whiplash is the whipping action of your neck that occurs when the forward motion and momentum of your body or your car is suddenly stopped. This is what occurs in a car accident when the forward movement of your car and therefore your head, is suddenly stopped by the accident. It causes significant straining of your neck muscles, as well as considerable pain and inflammation in your neck.
What Causes It?
Whiplash occurs as the result of a car accident, skiing accident, cycling accident or any other situation where your head and body are moving at a fairly high rate of speed and then suddenly stop.  The effect of the motion followed by a sudden stop causes a whipping motion of your neck, tightening your neck muscles and adversely affecting your cervical spine.
How can massage therapy help it?
Because of the muscle tension that whiplash causes, massage therapy is useful to relax muscles. Massage therapy treatment for whiplash involves releasing the suboccipital muscles.  Coupled with chiropractic and/or osteopathy, massage therapy helps to undo the damage to your neck caused by a car accident or other sudden jarring movement of your neck.
What Does the Research Say About Massage Therapy for Neck Pain?
Whiplash and Massage Therapy Research
Spine J. 2016 Dec;16(12):1598-1630. DOI: 10.1016/j.spinee.2015.08.024. Epub 2015 Dec 17.
Are manual therapies, passive physical modalities, or acupuncture effective for the management of patients with whiplash-associated disorders or neck pain and associated disorders? An update of the Bone and Joint Decade Task Force on Neck Pain and Its Associated Disorders by the OPTIMa collaboration.
Wong JJ1, Shearer HM2, Mior S3, Jacobs C4, Côté P5, Randhawa K4, Yu H4, Southerst D6, Varatharajan S4, Sutton D4, van der Velde G7, Carroll LJ8, Ameis A9, Ammendolia C10, Brison R11, Nordin M12, Stupar M13, Taylor-Vaisey A13.