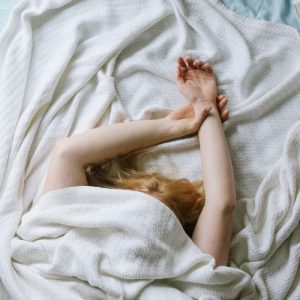 Insomnia
How Can Massage Therapy Help Insomnia?
If you're having insomnia or difficulty sleeping, regular massage therapy may be just the thing. Massage therapy helps to transition your body out of the stress mode (sympathetic) and into the relaxation mode (parasympathetic). By increasing parasympathetic activity, massage therapy helps you to unwind, relax and sleep. Stressful, busy lifestyles are just not conducive to good sleep.
What Does the Research Say About Massage Therapy for Insomnia?
Back

massage

technique is safe and cost-effective in congestive cardiac failure patients, by which the quality and duration of

sleep

is improved.
Another study shows that family caregivers for patients with cancer can benefit from back

massage

to improve state anxiety, cortisol level, blood pressure, and heart rate, and

sleep

quality.
Exercise,

massage

, and acupuncture may be associated with improved

sleep

quality during pregnancy.
Therapeutic massage in postmenopausal women exhibited improvement in symptoms according to the Insomnia Severity Index.
Even if you are not pregnant, postmenopausal, a family caregiver or suffering from congestive cardiac failure, massage therapy helps to relax your nervous system, reduce stress and help you sleep.
Massage Therapy for Sleep Research
Iran J Nurs Midwifery Res. 2017 Sep-Oct;22(5):359-362. doi: 10.4103/ijnmr.IJNMR_142_16.
Effectiveness of Back Massage on Sleep Pattern among Patients with Congestive Cardiac Failure.
Sable A1, Sivabalan T1, Shetti AN2.
Asian Pac J Cancer Prev. 2015;16(18):8127-33.
Back Massage to Decrease State Anxiety, Cortisol Level, Blood Pressure, Heart Rate and Increase Sleep Quality in Family Caregivers of Patients with Cancer: A Randomised Controlled Trial.
Pinar R1, Afsar F.
J Can Chiropr Assoc. 2013 Sep;57(3):260-70.
Non-pharmacological interventions for sleep quality and insomnia during pregnancy: A systematic review.
Hollenbach D1, Broker R, Herlehy S, Stuber K.
Climacteric. 2012 Feb;15(1):21-9. doi: 10.3109/13697137.2011.587557. Epub 2011 Oct 23.
Effect of therapeutic massage on insomnia and climacteric symptoms in postmenopausal women.
Oliveira DS1, Hachul H, Goto V, Tufik S, Bittencourt LR.