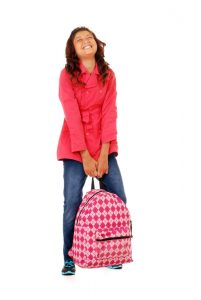 Back or Joint Pain in Children
Is Chiropractic Treatment Safe for Kids?
Recent research by the International Chiropractic Pediatric Association (ICPA) found spinal manipulative therapy to be safe and effective in treating children of all ages.  Dr. Hewitt, president of the American Chiropractic Associative Pediatric Council states that the majority of parents report that their kids experience a greater level of health while under regular chiropractic care.
Parents surveyed by the ICPA reported behavioral improvements for children who saw a chiropractor, as well as improved sleep and stronger immune systems. Scientific evidence in these areas is still inconclusive; however, the large increase in the number of children under chiropractic care appears to be a positive endorsement of its benefits.
Chiropractic care addresses children's health conditions associated with the nervous system and musculoskeletal systems.  Gentle techniques like activator, Thompson Terminal Point Technique (drop pieces) and soft tissue therapy are safe and effective for anyone of any age.  If you are at all concerned about the safety of chiropractic treatment for your child, contact Dr. Darlene Buan-Basit at 416-481-0222 for more information.
Why Would my Children Need to See a Chiropractor?
There are many reasons why a child's spine, muscles or joints might require treatment by our chiropractor:
Birth trauma: For infants, traumatic birth may require chiropractic services to gently realign your baby's spine.
Tongue-tie:  Dr. Darlene Buan-Basit is one of the foremost experts on using chiropractic techniques to help with tongue-tie in infants.
Sports injuries: Many sports like gymnastics, hockey and football involve jarring or traumatic movements that may result in misalignment and impaired function of the joints, nerves, and muscles.
Falls: Children are prone to falls as they are learning to walk, while playing on the playground equipment, sliding on the ice or just being rambunctious kids.
Backpacks: Lugging a heavy backpack places a big burden on a developing spine, causing back pain.
Car accidents: Heaven forbid, but if your child was in a car when an accident occurred, they are equally prone to injuries like whiplash as adults.
---
Other Natural Therapies to

Treat Kid

's Health Concerns
Nutrition: Proper diet is vital to overall health and wellness at every age and stage.
Acupuncture: Acupuncture can be used in children, however, in practice, most children are reluctant to endure the needles.  Ear seeds are a painless way to apply acupressure to acupuncture points located inside the ear.
Herbal Medicine: Herbs can be used safely in children to treat a number of complaints: aches, pains, headaches, sleep and behavior problems, ADHD/ADD/ASD, weak immune systems, allergies, asthma, and many other problems.
Registered Massage Therapy: Children are no less susceptible to aches and pains than adults, particularly children who are high achievers in sports and physical activities.  Massage therapy relieves muscle tension, headaches, and balance the muscles to ease pain and optimize performance.